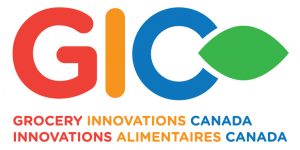 Service(s) related to this article": GMP, prerequisite, HACCP and GFSI program development and implementation, Food Labelling, Health Claims and Nutrition Facts Table (NFT), Organic Certification, Gluten-Free Certification
On October 23rd and 24th, the Canadian Federation of Independent Grocers (CFIG) hosted their annual tradeshow, Grocery Innovations Canada (GIC), at the Toronto Congress Centre. The GIC tradeshow is considered to be the premier and must-attend Business-2-Business (B2B) grocery & specialty food show of the year. Attendance at the GIC tradeshow is beneficial in a number of ways. The biggest benefit of attending is the number of opportunities to meet face-to-face with other businesses to build collaborative relationships that will allow for future business growth. The show offers a number of networking opportunities through networking events such as their opening reception and their trade floor mix and mingle. The show also provides businesses of all sizes, from independent small business owners to national chains, with exposure to key retailers and buyers from across Canada that they usually would not be exposed to. The show is also considered to be an excellent platform to showcase and launch new and innovative products. In addition, the show provides businesses the opportunity to showcase their services that can benefit a range of clientele within the grocery industry.
This year marks the first year for dicentra and its team members having exhibited at the show. Having never attended the show before, dicentra had a booth located in the "First Timers" pavilion which was considered to be one of the pivotal pavilions on display at GIC 2017. This pavilion provides new and existing businesses with the opportunity to gain exposure into the grocery industry.
One of the biggest takeaways from the show was the number of diverse exhibitors present. One would think with a name like Grocery Innovations Canada, that most exhibitors would be grocery (or food) related. However, this was not the case. The dicentra team quickly learned that exhibitors for a number of other industries were also present at the show. This includes businesses from the financial and operational services sector, health and wellness, beer and wine, technology and equipment, and Home Meal Replacement (HMR) and food-services. Another big takeaway from the show was the number of businesses that were unaware of how big of an impact Health Canada had on how their products were regulated. A common theme was the lack of knowledge many business owners had regarding regulations pertaining to their products and upcoming changes to the regulatory framework that could potentially impact their businesses. The dicentra team was approached by a number of individuals asking about what our services entailed and what we had to offer to the grocery industry. Many of these people were shocked to learn how profoundly dicentra's services could both assist and benefit the growth and compliance of their products. Questions answered by the dicentra team ranged from food labelling and nutrition facts tables, to Hazard Analysis and Critical Control Point (HACCP) plan implementation and Global Food Safety Initiative (GFSI) schemes, to Organic and Gluten-Free certifications and more.
Some highlights from the show included:
dicentra's team members being able to use virtual reality software to design a dress made entirely out of toilet paper
Exposure to new and up-and-coming facial recognition software for security purposes
Exposure to the ten most innovative products at GIC 2017 as voted by a panel of judges from the show
After a successful 2017 showing, dicentra is looking forward to exhibiting once again at GIC 2018 and the opportunity to build new relationships and partnerships with the shows exhibitors and attendees. dicentra is a professional consulting firm that specializes in addressing all matters related to safety, quality and compliance for all product categories in the life sciences and food industries. We evaluate, implement, and provide all the necessary support for your products and operations, allowing you to gain market access while building confidence in your brand.