The Canadian Food Inspection Agency (CFIA) has released updated guidance on the proposed Safe Food for Canadians Act (SFCA) and its associated regulations. Included in the release is a step-by-step guide to importing as well as updated information on licensing, exporting and labeling guidelines.
The proposed Safe Food for Canadians Regulations (SFCR) focus on strengthening the Canadian food system to make it even safer by relying on prevention and allowing for faster response and destruction of unsafe food from the marketplace. The SFCR will see fourteen sets of regulations merged into one, helping to increase market access while creating a food system that is internationally recognized; the proposed regulations are aligned with the internationally recognized standards of the Codex Alimentarius.
How Should Canadian Food Businesses Prepare for Implementation of the Safe Food for Canadians Act?
As a Canadian food business that is subject to the Safe Food for Canadians Act (SFCA), you would be responsible for the following:
Ensuring food that you prepare domestically, import, or export is safe and meets the regulatory requirements
Ensuring food is of a nature, substance and quality expected by consumers
Ensuring food is labeled, advertised and presented in a way that is not false or misleading and meets the regulatory requirements
The Safe Food for Canadians Act consolidates and modernizes previous food related acts under the Canadian Food Inspection Agency (CFIA), namely the Canadian Agricultural Products Act, the Fish Inspection Act, the Meat Inspection Act, and the food provisions of the Consumer Packaging and Labeling Act.
By consolidating these acts, the CFIA hopes to provide consumers with a safer food supply. One area of focus for the SFCA is food labeling under the Consumer Packaging and Labeling Act, as improved labeling can help Canadians make well-informed food choices in their daily eating habits.
What Major Labeling Changes Can My Food Business Expect Under the SFCR?
There are three major areas of change to expect under the SFCR in regards to labeling:
1. Nutrition Facts Table
The representation of nutrients on packaged foods will change to reflect:
An enlargement of the serving size and calories for easier reading.
A Daily Value (DV) percent for sugars, along with an explanatory footnote outlining how much sugar is in the food product and how it affects a typical diet (i.e. 5% or less is a little and 15% or more is a lot).
Addition of potassium to the list of nutrients. Most Canadians are not getting enough in their diet, and potassium plays an important role in maintaining healthy blood pressure.
Removal of Vitamin A & Vitamin C from the list of nutrients, as most Canadians reach their daily limits with a regular diet.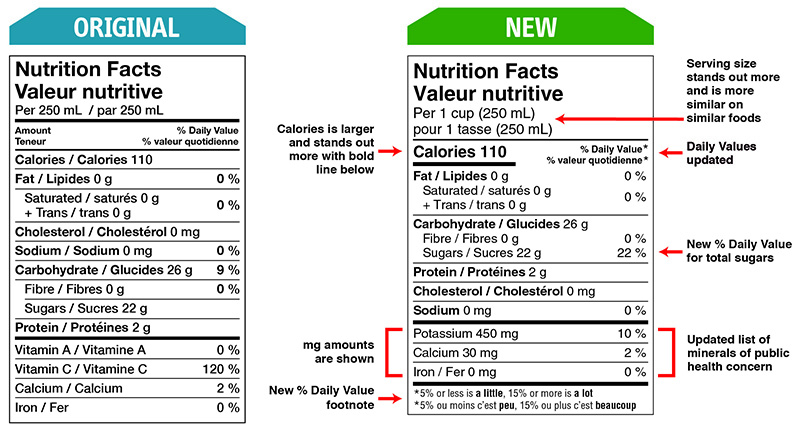 2. Serving Size
The serving size on food labels is an area that has many proposed changes. There are four key areas to focus on when reviewing your food labels:
Foods that can be measured (comparable foods). One area of confusion on current food labels is the amount of food shown per portion of food products that are comparable (for example, two containers of yogurt showing different measurements). The proposed changes aim to group similar products with similar household measurements, such as flour, rice, yogurt and milk.
Foods that come in pieces or are divided. Food products that measure their portions in pieces will be paired with its equivalent in grams. These foods include crackers, chips, cookies, bagels, etc. The serving size for these products will have to be as close to 20 grams as possible. This will also be applied to foods that are divided before they are eaten, like frozen pizza, lasagna and wheels of cheese.
Amounts of foods typically eaten. Certain food products will have their serving size reflect the way they are typically eaten, such as sliced bread, breakfast cereals and certain meats, for example 2 slices of bread is a typical serving size for sliced bread.
Foods in single serving containers. For single serving containers that contain up to 200% of the reference amount for that food, the serving size will now be the entire container. For example, the reference amount for milk is 250 ml. For containers up to 500 ml (200% of 250 ml), the serving size shown will be the amount of milk in the entire container. As the following figure demonstrates, on a 473 ml carton of milk, the serving size will be shown as: per 1 carton (473 ml).
3. List of Ingredients
In addition to the nutrients and portions, the list of ingredients on food packages is also being targeted for a few key changes. These changes include:
Adding the bolded phrase "contains" which shows if the product has any priority food allergens
Separation of ingredients by bullets
Sugar-based ingredients to be grouped together, after the common name "Sugars"
These proposed labeling standards are just a small piece of the puzzle in regards to the changes that will be introduced with the inception of the Safe Food for Canadians Regulations (SFCR) under the Safe Food for Canadians Act. Other areas that Canadian food businesses should be focused on include licensing standards, traceability & record keeping, and the new requirement of a Preventative Control Plan for any company that deals with food or food products.
dicentra is a professional consulting firm that specializes in addressing all matters related to safety, quality and compliance for all product categories in the life sciences, cannabis, and food industries. We can be reached at 1-866-647-3279 or info@dicentra.com.