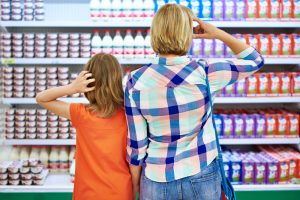 On November 14, 2016, Health Canada released the consultation document "Toward Front-of-Package Nutrition Labels for Canadians" outlining their proposal to introduce mandatory requirements for labels that appear on "Front of Package" foods (FOP) that are high in nutrients of public health concern. These nutrients of public health concerns when at high levels are sodium (associated with hypertension), sugar (associated with diabetes) and saturated fatty acids (associated with obesity). Health Canada has requested input from consumers, stakeholders, industry members, researchers in academia and health professionals on the proposed FOP requirements.
Health Canada proposes applying Front of Package labelling through the use of a symbol (currently being determined by Health Canada with properties of being simple and intuitive) that is mandatory on the principal display panel when the prepackaged food exceeds the predetermined "high-in" threshold value for sodium, sugars, or saturated fats. Through this mandatory and simple approach, Health Canada feels that consumers can rely on quick information on key nutrients of concern that would allow them to easily compare products and help make healthier choices easier. Health Canada feels that consumers can be limited by time, motivation and other factors, so FOP symbols grants them an additional tool to help them with informed choices; being a simple visual cue. Health Canada also states that Front of Package labelling is transparent as consumers can verify which nutrient is being flagged in the FOP symbol and can verify its actual quantity on the Nutrition Fact Table on another panel.
The proposed threshold value for when a "high-in" FOP symbol would be required for sodium, sugar and saturated fats is suggested to be 15% of the dietary value for prepackaged food and 30% of the dietary values for prepackaged meals and combination dishes – though different threshold values are being proposed for foods with small reference amounts (condiments, butter, margarine, cookies etc.).
Health Canada is also permitting or considering permitting exemptions to FOP labelling for products with very small packages, small individual packages served in restaurants, food produced and prepackaged by retailers, alcoholic packages and packages of sugar and salt.
There has already been feedback from the industry that FOP labeling may actually increase, rather than decrease consumer confusion as intended as the consultation documents outlines many exemptions which could confuse consumers when encountering an exempted food versus a healthier food alternative that carries FOP labelling. Industry also has concerns that FOP labelling on the three nutrients of public health concern will cause consumers to focus on these three nutrients and not the other beneficial nutrients in the food (running contrary to a promotion of a balanced diet) and be frightened away from these products despite their other nutritional benefits. Some of the proposed FOP symbols are reminiscent of street signs (stop & yield) which may confuse consumers to be a "not-consume" warning rather than an indicator of a higher value of a certain nutrient that it actually is.
In addition to FOP labelling, the consultation documents also discusses update to nutrient content claims to make them consistent to the proposed FOP labelling and revising the current high-intensity sweetener regulations to align with those seen in international regulatory agencies around the world.
The current consultation has just recently closed on January 13th, 2017, though further consultations are planned again in June 2017.
dicentra is a professional consulting firm that specializes in addressing all matters related to safety, quality and compliance for all product categories in the health sciences and food industries. We evaluate, implement, and provide all the necessary support for your products and operations to gain market access and build confidence in your brand.