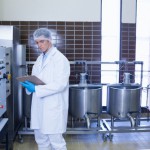 Many in the food processing and retail industries are concerned that their existing Food Safety SQF Certification Plans will not be sufficient to meet the new FDA Food Safety Modernization Act (FSMA) requirements in the United States. The focus of this article is to demonstrate the similarities and difference of these two safety systems and to assure those that are aiming to obtain their SQF certification that this is still a worthwhile effort.
When comparing the elements of the two systems there are many similarities, but we'll start this review with the areas that differ. There are two major areas that have discrepancies. The first area of inconsistency is in the validation of controls. Both SQF and FDA require validation of controls and specifically process controls however for FSMA more detailed requirements are expected.
The SQF Code only requires the following general validation controls:
Pre-requisite programs are confirmed to ensure they achieve the required result.
Critical limits are selected to achieve the designated level of control of the identified food safety hazard.
All critical limits and control measures individually or in combination effectively provide the level of control required.
Changes to the process or procedures are assessed to ensure controls are still effective.
Critical food safety limits are re-validated at least annually.
The second area of discrepancy between the scope of SQF and FSMA is in the area of Corrective Actions. Both SQF and FDA require a documented process, however, the scope of FDA requirements is greater than SQF because it specifically requires an evaluation of the food in question and assurance that potentially contaminated food has not entered commerce.
There are, however, four elements where SQF certification exceeds the FSMA requirements. They fall under the following categories:
Overarching Policy Statement- SQF requires a statement asserting the commitment to food safety. FDA does not have a corresponding requirement.
Prerequisite Programs- SQF emphasizes the importance of prerequisite programs, specifying the requirements in Module 11. The new proposed preventative controls requirement does not generally address prerequisite programs. In this way, SQF is stronger in the treatment of prerequisite programs.
Raw Material / Incoming Product Safety Assurance- SQF specifies requirements for incoming materials. FDA does not have corresponding requirements.
Finished Product Release- Although neither SQF nor FDA requires finished product testing, SQF requires a process to release product.
The remaining nine elements are comparable for both SQF and FDA in the areas of requirements for:
Food safety plans
Experienced individual in charge
Trained staff
Supplier verification
Allergen management
Traceability
Recall
Record retention
Internal audit
Any food company that is certified to SQF level 2 are starting in a very good place to meet the requirements of the FSMA. It's important for food organizations to stay knowledgeable on the rule making and implementation phase of FSMA to ensure they are ready for any differences in the systems.
Whether it be implementing SQF or preparing for FSMA, Dicentra is here to help with its expertise in food safety and compliance.
dicentra provides sought-after guidance on product and marketing compliance, quality assurance and safety standards, research and development, new ingredient assessments and overall regulatory strategies for food and health-related products sold in North American marketplaces. We can assist you with navigating the Advanced Notice of Importation Process Pilot to confirm that you meet the requirements of the pilot and file the notice for your products, as needed. We can be reached at 1-866-647-3279 or info@dicentra.com.