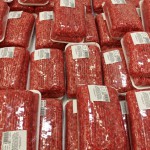 Requirements for a country of origin to be indicated on meat labels for products imported into the US is currently under repeal, as the WTO approves tariffs on US goods. Only time will tell if the US complies before Canada and the US are permitted to apply the tariff.
Just this week, the World Trade Organization (WTO) panel deemed that the U.S. Country-of-Origin Labelling (COOL) for Foods was discriminatory and protectionist. For those who have been following the conflict, the initial law to implement country of origin labelling in the United States actually took affect 6 years ago on March 16, 2009 and this is now the fourth and final time that WTO rules that this law is discriminatory. The U.S. has appealed all previous rulings.
Both the authorization and implementation of COOL by the U.S. Department of Agriculture (USDA) has been controversial, especially for the labeling rules for meat and meat products. As it stands today, in order to comply, products going into the U.S. require that meat labels show where each production step occurs (i.e. Born in Canada, Raised and Slaughtered in the United States). The rule also prohibits commingling of muscle cut meat from different origins.
Both Canada and Mexico challenged the U.S. law less than one year after the COOL rules took affect in the WTO and each time the WTO has clearly agreed that COOL treats Canadian cattle and hogs and imported Mexican cattle less favourably than domestic livestock.
After Monday's announcement that the WTO ruled, for the fourth and final time in favour of Canada and Mexico, Agriculture Minister Gerry Ritz and Trade Minister Ed Fast released the following statement, "The United States has used and exhausted all possible means to avoid their international obligations, damaging our highly integrated North American supply chain, hurting producers and processors on both sides of the border." Now both countries are allowed to move quickly and impose punishment such as higher tariffs on U.S. food products such as wine, chocolate, cereal, fruit and juice. Furniture and mattresses entering Canada from the U.S. will also be subjected to higher tariffs.
Supporters of the labels including northern U.S. ranchers who compete with the Canadian cattle industry and some consumer advocates, have called the U.S. government to negotiate with Canada and Mexico to find labels acceptable to all countries, but many in the U.S. meat industry – including meat processors who buy animals from abroad – have called for a repeal of the law for which they have fought for years, requiring the country of origin to be highlighted on meat labels of imported products.
The U.S. has no other appeal options left. A House of Representatives agriculture committee voted 38-6 to repeal a "country-of-origin" labelling law for meat on Wednesday, May 20 — just two days after the WTO ruled against parts of it. Canadian meat producers have estimated that it cost their industry $1 billion dollars annually, and Mexico has reported a similar impact. One retail distributer related the extra cost to new signs, new labels, and new labelling machines. Another meat packer said that they had idled a meat packing plant in Texas because too few cattle were available for importing as imported cattle became less attractive to companies seeking to avoid the need for multiple labels. The law that has been in force for several years has resulted in greater record-keeping burden on producers, feeders and processors through the born, raised and harvested label. Canadian beef and pork industries said the rules were driving some Canadian farmers out of business.
As it currently stands, Canada will be afforded the power to impose tariffs on US products imported to Canada starting in the fall of 2015. Until such time meat labels for products destined for the US market will be in limbo regarding whether a country of origin statement will be needed in order for the product to be permitted across the border. While no bill has been put forward yet by Senate Agriculture Committee Chairman Pat Roberts of Kansas, he has indicated his willingness to respond to the WTO ruling swiftly. dicentra will be sure to provide any updates regarding any changes to labeling as soon as they become available
dicentra is recognized as an industry expert in food safety and compliance. From implementing Preventative Control Plans for new facilities involved in the processing of foods to reviewing labels for major retailers for meat and poultry products, we have the expertise and experience in house to help you with any matters relating to food safety and compliance. Our experts can perform the work from our office or can come on site to perform an audit, evaluate your operations or train your staff.