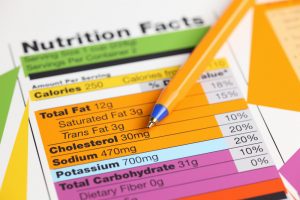 The U.S. Food and Drug Administration (FDA) has finally formalized the new Nutritional Facts panel for packaged foods. There are six critical changes that the FDA has implemented to help consumers to make more informed choices about the food they consume. The changes are outlined below:
Serving Size
The quantity of the serving size has been increased to accurately reflect what people typically now consume on a daily basis.
The text size for "serving size" has increased to highlight this information to consumers.
There are new requirements for certain size packages that may be larger than one serving size, but could be consumed in one setting.
Calories
The text size for calories is now larger and bolder to help emphasize this information.
Fats
While "total fats", "saturated fat", and "trans fat" are still required on the panel, the declaration of "calories from fat" has been removed since emerging research has shown the type of fat a person consumes is more important than the amount.
Added Sugars
The quantity of "added sugars" in both grams and as a percentage of daily value (% DV) is now required.
Nutrients
Together with Calcium and Iron, Vitamin D and Potassium declaration is now required since Americans are not getting the recommended daily amounts of these two nutrients. However, Vitamin A and Vitamin C declaration are no longer required.
The daily values for a large number of the vitamins and minerals have been updated.
Footnote
The footnote at the bottom of the panel has been updated to better inform the consumer the exact meaning of the percentage daily values.
Food manufactures in the United States have until July 26, 2018 to update their label with these new requirements. Though, businesses with less than 10 million dollars in revenue have an additional year to comply, making their effective date July 26, 2019.
dicentra is a professional consulting firm that specializes in addressing all matters related to safety, quality and compliance for all product categories in the health sciences and food industries. We evaluate, implement, and provide all the necessary support for your products and operations to gain market access and build confidence in your brand.