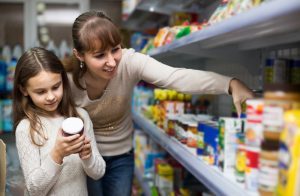 Healthy eating can be challenging due to several factors, some beyond the control of the consumer. This is why the Government of Canada is taking actions to make the healthier choice the easier choice for all Canadians. Health Canada is currently overhauling Canada's healthy eating guidelines with a comprehensive strategy that will include new rules for marketing and labelling certain foods aimed at children. Health Minister Jane Philpott said the "iconic" Canada Food Guide has not kept up with the country's changing demographics and lifestyle.
The World Health Organization (WHO) released recommendations on the marketing of food and beverages to children in 2010. WHO called on governments worldwide to reduce the exposure of children to advertising and to reduce the use of powerful marketing techniques employed by the food manufacturers and beverages high in saturated fats, trans-fats, added sugars or sodium.
Health Canada's last food guide was criticized because it was based on much input from industry. Today, Canada is acting on those WHO recommendations, which already restricts marketing to children under the age of 13. It will take anywhere from five to ten years to implement these changes, after consultations with industry, stakeholders and the public. Although, this is an unprecedented amount of change that will require an unprecedented level of investment in an unprecedented time frame, this will change what's in our products, what's on our product packaging and how these products will be marketed. On the other hand, the food and beverage industries continues to face challenges with timely regulatory approvals and costs for reformulation and innovation.
The food industry in Canada is already taking steps to encourage Canadians to make more informed, healthy food choices, and said it is "keen" to ensure further steps are taken. Health Canada just completed the scientific review of the Canada Food Guide. It found that most of the science behind its recommendations was sound. However, the department found there were not enough distinctions between age groups, sex, activity levels, or height. Hopefully, this new guide remains the most requested document at Health Canada.
In summary, Health Canada will engage the public and stakeholders to seek feedback and input on a proposed front of package labelling approach aimed at helping Canadians make healthier and more informed choices, particularly on added sugars, sodium and trans-fats.
dicentra is a professional consulting firm that specializes in addressing all matters related to safety, quality and compliance for all product categories in the health sciences and food industries. We evaluate, implement, and provide all the necessary support for your products and operations to gain market access and build confidence in your brand.