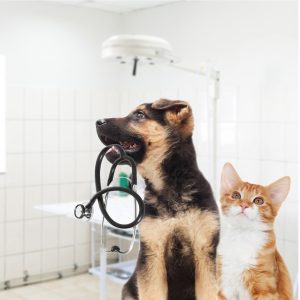 Service(s) related to this article: Low Risk Veterinary Health Product
On August 10th, 2017, Health Canada sent an email notice to all stakeholders involved in the LRVHP Interim Notification program informing that this existing program will be replaced by the VHP Notification Program now administered by the Veterinary Drugs Directorate (VDD) of Health Canada in place of the North American Compendium (NAC) and coming into force on November 13th, 2017.
Oversight of veterinary health products (VHPs), which include low risk vitamin, mineral, traditional and homeopathic medicine products intended to help maintain animal health and welfare, initiated in 2012 with the launch of the low-risk veterinary health products (LRVHP) program. This pilot program was created by Health Canada in collaboration with the Canadian Animal Health Institute and the North American Compendiums (NAC) with the NAC actually overseeing the day-to-day operations. The purpose of this temporary voluntary pilot program was to assess the feasibility of having low risk veterinary health products for use in companion animals be evaluated in a streamlined risk-appropriate approach that would allow these products onto the Canadian market and create the foundations for a new regulatory framework in the future.
As a result of the success of the LRVHP program (with nearly 1000 products notified by the pilot program and for sale in Canada), a similar notification pathway is being introduced in its place, that in line with the regulations for VHPs (as declared in the final publication in Canadian Gazette, Part II of the Regulations Amending the Food and Drug Regulations (Veterinary Drugs-Antimicrobial resistance)published on Ma), and is expanded to include food-producing animals as well as companion animals already evaluated in the LRVHP program. The new Notification program will function in a similar manner to the current LRVHP program (notification of VHPs, the requirements of VHP ingredients, adverse event reporting) though it is now administered by Veterinary Drugs Directorate (VDD) of Health Canada.
The NAC will continue overseeing the LRVHP Interim Notification program until October 13th, 2017, which will be the final day to renew Notification Applications or receive adverse events reporting. Between October 13th, 2017 and November 13th, 2017, Health Canada will be preparing their new version of the VHP Notification program. November 13th, 2017 will be launch date of the VHP Notification Program. All products that have a valid Notification Number (NN) as of October 13th, 2017, will have 18 months beyond this November 13th, 2017 launch date (May 13th, 2019) to have their products transition to the new system (ex. compliant labels).
The VDD will be engaging stakeholders in early Fall via "VHP Information Sessions" to describe the new VHP rules, notification system, processes, timelines, and compliance approach including a guide to VHPs.
dicentra is knowledgeable in the realm of veterinary health products (VHP) in Canada, having extensive experience in the low-risk veterinary health products (LRVHP) program that regulated these products before the current regulatory change that is yet to be implemented. dicentra can determine if your pet-intended product is appropriate for the Veterinary Health Products program based on its ingredient composition and recommended conditions. dicentra can assist with formulation and evidence dossier if desired. If the product is appropriate as a VHP, Dicentra can prepare the submission to acquire a Notification Number for your product. We can be reached at 1-866-647-3279 or at info@dicentra.com.