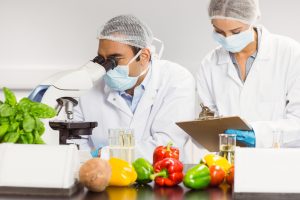 Service(s) related to this article: Food Safety & Quality, Food & Beverage, FSMA
The latest deadline for the Food Safety Modernization Act (FSMA) just passed on May 30, 2017 and it gets really confusing on what's expected. So here is a summary of what you really need to know.
The May 30, 2017 deadline applies to you if you are either:
An importer of HUMAN FOODS whose foreign supplier in not subject to the PC (Preventative Controls) or PS (Produce Safety) rules or,
An importer of ANIMAL FOODS whose foreign supplier is subject to the animal foods PC rule's GMPs except for the following exceptions:
Description of Importer
Due Date
Small businesses
March 19, 2018
Very small businesses

Qualified facilities

Suppliers subject to the pasteurized milk ordinances

March 19, 2019

Importers of sprouts whose foreign supplier is subject to PS sprout requirement except:
July 26, 2017
* Small businesses
July 26, 2018
* Very small businesses
July 29, 2019
So do you meet any of these requirement dates?
First of all what is FSVP? In the most basic terms, FSVP stands for Foreign Supplier Verification Programs. It applies to both Importers of Food for Humans as well as Animals. Unfortunately, although the definition and acronym FSVP is simple, this government regulation (like most) is not really simple. The FSVP requires that importers of food into the U.S. implement specific risk-based activities to make sure that their foreign suppliers are actually manufacturing foods to the same level of food safety as outlined in PREVENTATIVE CONTROL or PRODUCE SAFETY rules. FSVP also makes sure that the manufacturer's food is not adulterated or misbranded when it comes to allergen labelling.
The FSVP rule makes it mandatory that importers know the hazard or reasonably potential hazard for each food that they import. Once the hazard is clear, then the risk related to that particular food needs to be evaluated. This risk evaluation is used for approving suppliers doing specific supplier verification activities. For each supplier of the food, the risk evaluation must be written and must be reassessed at least every three years. If new information on a potential hazard becomes known, then the reassessment needs to occur at that time. Reassessment also needs to happen based on the performance of each supplier.
So in summary, you are required to meet the requirements of FSVP if you are the "U.S. owner or consignee of an article of food that is being offered for import into the United States: or, if there is no U.S. owner or consignee of an article of food at the time of U.S. entry, you are the U.S. agent or representative of the foreign owner at the time of entry", then you are captured by FSVP. If you want to find out more as to whether your business is required to meet these new rules, there is an FDA flow chart at the following FDA link:
https://www.fda.gov/downloads/Food/GuidanceRegulation/FSMA/UCM472461.pdf
dicentra is a professional consulting firm that specializes in addressing all matters related to safety, quality and compliance for all product categories in the health sciences and food industries. We evaluate, implement and provide all the necessary support for your products and operations to gain market access and build confidence in your brand. Contact dicentra at 1-866-647-3279 or visit dicentra.com to learn more about us and our services.