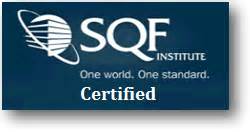 Toronto, On (PRWEB) August 13, 2015
dicentra, located in Toronto Canada, has now joined the elite group of organizations who are licenced under SQFI to perform certification audits for food manufacturing facilities.
Benefits of SQF Certification
The benefit to food companies undergoing the scrutiny of SQF certification audit is that they are able to confidently validate to their customers globally that the safety plans implemented in their operations meet clients' requirements. Food safety plans that meet SQF standards and pass the certification audit have the stamp of approval signifying that their operation is effectively eliminating all potential food risks.
A study of 176 Wal-Mart suppliers (405 facilities) conducted by the University of Arkansas and published in the Journal of Food Protection stated that in a four year time period, there was a 34% reduction in recalls to organizations that became certified to an SQF.
Food Recalls in Canada
Food recalls have a significant impact on all business related to food manufacturing, importing and distributing.
The attached graph demonstrates the number of recalls issued in Canada alone from June 2014 to June 2015. A total of 225 recalls were issued with the majority of recalls (41%) being the result of the presence of microorganisms causing foodborne illness.
There are over 4 million foodborne illnesses reported in Canada each year, with estimated costs to our health system of $2.8 billion annually. The second largest area of recalls in Canada in the past year was due to undeclared allergens (40%). It is estimated that as many as 1.2 million Canadians may be affected by life threatening food allergies.
Time and time again, it has been shown that the internal and external failure costs greatly outweigh the prevention and appraisal costs of implementing a proper SQF Certification Program. In one plant recall example, the cost of downtime in the plant, reduction in yield, lawyers engaged to dispute condemnations and rejections by retailer added up to 24% of sales. On the flip side, the prevention cost involving proper training of staff, contracting of regulatory consultant expertise, and lab analysis to test residues was only 8% of total sales.
SQF certification audits are plant and product specific to each food plant operation. Clearly, contracting certification bodies such as dicentra to ensure that customers' food safety requirements are met, as well as preparing for upcoming requirements under the Safe Food for Canadians regulations, is an important investment to make. dicentra is recognized as an industry expert in food safety and compliance. dicentra's extensive expertise includes implementing HACCP/Preventative Control Plans for facilities involved in the processing of foods, preparing for the various GFSI certifications, and reviewing labels for major retailers and brands for food products. This experience has positioned dicentra as excellent advisors and problem solvers on all issues related to food safety and compliance. dicentra's experts include a certified SQF consultant, food safety experts with decades of experience, toxicologists, microbiologists, chemical engineers, former government officials, a medical doctor and food safety experts. Now, in addition to providing consulting services in food safety, dicentra can also provide SQF certification services as a licenced SQF Certification body.
Food plants that successfully complete the SQF certification audit will receive recognition and acceptance of their food safety compliance by clients and retailers throughout North America and globally.
About dicentra
dicentra provides sought-after food safety guidance and consulting services as well as scientific guidance for health-related products sold in North American marketplaces. Since 2002, the company has been helping clients resolve complex scientific issues, develop safe and effective market-leading products and facilitate timely regulatory Health Canada NHP, FDA and global approval. dicentra has advised hundreds of major, medium and small-sized companies, financial institutions, governments, associations, law firms and individual investors on the regulatory and scientific aspects of product creation and maintenance. dicentra has been directly involved in the successful development of hundreds of leading products of leading products in North America and through out the world.