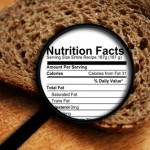 July 24, 2015 – FDA provides supplemental proposal for changes to the Nutrition Facts panel to require % DV for sugars.
The U.S. Food and Drug Administration is proposing additional revisions to the Nutrition Facts panel for packaged foods. Th supplemental proposal would, among other things, require declaration of the percent daily value (%DV) for added sugars, and change the footnote on the current Nutrition Facts panel.
Added Sugars:
FDA is proposing including the percent daily value (%DV) for added sugars. This should help consumers make informed food choices. The percent daily value would be based on the recommendation that the daily intake of calories from added sugars not exceed 10 percent of total calories.
Footnote:
FDA is also proposing to change the current footnote to help consumers understand the percent daily value concept. The proposed statement on the Nutrition Facts panel would be shorter than the current footnote to allow for more space on the label, stating: *The percent daily value (%DV) tells you how much a nutrient in a serving of food contributes to a daily diet. 2,000 calories a day is used for general nutrition advice.
The FDA's initial proposal to include the amount of added sugars on the Nutrition Facts panel is now further supported by newly reviewed studies suggesting healthy dietary patterns, including lower amounts of sugar-sweetened foods and beverages, are strongly associated with a reduced risk of cardiovascular disease.
The initial proposed rule was published March 3, 2014. In brief, the earlier proposed changes to the Nutrition Facts panel were:
Greater Understanding of Nutrition Science
Require information about "added sugars." Many experts recommend consuming fewer calories from added sugar.
Update daily values for nutrients like sodium, dietary fiber and Vitamin D. Daily values are used to calculate the Percent Daily Value listed on the panel.
Require manufacturers to declare the amount of potassium and Vitamin D on the panel, because they are new "nutrients of public health significance." Calcium and iron would continue to be required, and Vitamins A and C could be included on a voluntary basis.
While continuing to require "Total Fat," "Saturated Fat," and "Trans Fat" on the panel, "Calories from Fat" would be removed.
2. Updated Serving Size Requirements and New Paneling Requirements for Certain Package Sizes
Change the serving size requirements to reflect how people eat and drink today. The panel information on serving sizes must be based on what people actually eat, not on what they "should" be eating.
Require that packaged foods, including drinks, that are typically eaten in one sitting be paneled as a single serving and that calorie and nutrient information be declared for the entire package.
For certain packages that are larger and could be consumed in one sitting or multiple sittings, manufacturers would have to provide "dual column" panels to indicate both "per serving" and "per package" calories and nutrient information. This way, people would be able to easily understand how many calories and nutrients they are getting if they eat or drink the entire package at one time.
3. Refreshed Design
Make calories and serving sizes more prominent to emphasize parts of the panel that are important in addressing current public health concerns such as obesity, diabetes, and cardiovascular disease.
Shift the Percent Daily Value to the left of the panel, so it would come first.
Change the footnote to more clearly explain the meaning of the Percent Daily Value. The percent daily value indicates how much a nutrient in a serving of food contributes to a daily diet and would help consumers make informed choices for themselves and their families.
The FDA is seeking public comment on the new proposal for 75 days. The agency continues to review comments received on the 2014 proposed rule for the Nutrition Facts panel changes and is reopening the comment period on its March 2014 proposal for 60 days to invite public comment on two consumer studies related to panel formats. The agency will consider comments on the original and this supplemental proposed rule before issuing a final rule.
The FDA is accepting public comments starting July 27, 2015.
FDA Consultant dicentra provides sought-after guidance on product and marketing compliance, quality assurance and safety standards, research and development, new ingredient assessments and overall regulatory strategies for food and health-related products sold in North American marketplaces. Our on-staff professionals include food safety and quality control experts, former government officials, medical doctors, engineers and toxicologists to handle all of your needs. Contact us at info@dicentra.com or at 1-866-647-3279.