On Friday the 20th of May, FDA announced the availability of the final regulations for nutrition labeling and serving sizes (in prepublication format). The final regulations will be published in the Federal Register on May 27, 2016. That date will be used in setting the effective date of July 26, 2016, and the compliance date of July 26, 2018 (or July 26, 2019 for businesses with less than 10 million dollars in annual food sales). In addition to the final regulations, FDA published a fact sheet, a slide show, changes to the nutrition facts panel, a statement by the Commissioner, and a Q&A.
Nutrition Facts Rule
In the prepublication format, the final regulation regarding Nutrition Facts and Supplements Facts label is 943 pages. This is not surprising in light of the large number of comments, but it appears that FDA has made relatively few changes to the proposed rule. Here are some highlights
Format of the Nutrition Facts box (most of the format changes do not apply to the Supplement Facts box)
The differences between the original label and the new label are significant and illustrated by a comparison between the original and new label.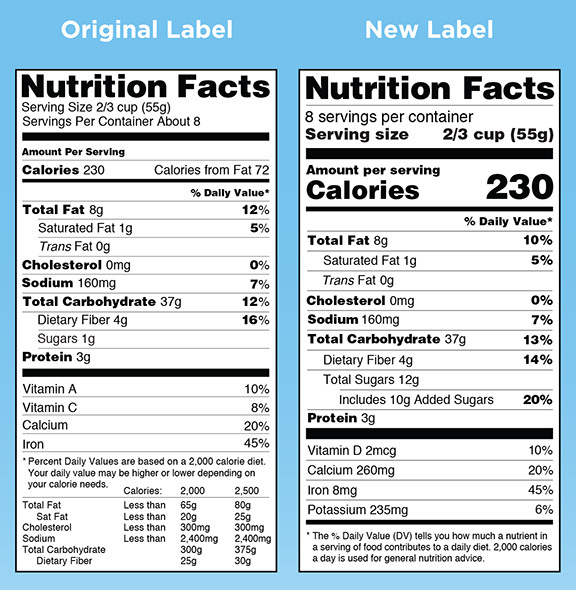 The two major differences between the proposed rule and the final rule are that the daily value column remains on the right (FDA had proposed to move it to the left), and the requirement to declare total sugar as "total sugars" (not as "sugars"), and "added sugars" by the statement "includes x g added sugars." The latter change is intended clarify that added sugars are a subcomponent of total sugars.
Changes in Required Nutrients
Despite numerous objections, FDA finalized the final rule to require the listing of added sugars and to redefine dietary fiber. Likely less controversial are the changes in mandatory vitamins and minerals; Vitamin A and vitamin C will no longer be mandatory, whereas vitamin D and potassium will be mandatory.
Added sugars: As proposed, the final regulation requires declaration of added sugars in grams (includes x g of added sugars) and declaration of a percent of Daily Value for added sugars (not for total sugars).
What constitutes added sugars and how this might affect labeling of certain products has generated a lot of questions (e.g., would juice from concentrate need to label all sugars as added sugars). FDA clarified its intent in the final regulation. Sugars from fruit or vegetable juice concentrates are "added sugars" only to the extent that they add sugars in excess of what would be expected from the same volume of 100 percent fruit or vegetable juice of the same type. Recognizing that there is no nutritional difference between sugars in 100% juice prepared from concentrate and in 100% juice not from concentrate, the final regulation specifies that fruit or vegetable juice concentrates used towards the total juice percentage label declaration or for Brix standardization are not considered "added sugars" for purpose of the nutrition labeling. Similarly, neither fruit juice concentrates which are used to formulate the fruit component of jellies, jams, or preserves in accordance with the standards of identity, nor the fruit component of fruit spreads, are "added sugars" for purposes of nutrition labeling.
FDA also removed from the definition of added sugars, the language that stated that naturally occurring sugars that are isolated from a whole food and concentrated so that sugar is the primary component are added sugars. Consequently, dairy ingredients containing lactose, except lactose as defined in 21 C.F.R. § 168.122, no longer fall within the definition of added sugars.
It is evident that careful analysis will be required to determine whether and how added sugars must be declared, and in what amount. Further, careful record keeping will be required.
Dietary Fiber: As we previously discussed, FDA's proposal concerning the definition of dietary fiber raised some concern. FDA proposed to narrowly define dietary fiber to include "non-digestible soluble and insoluble carbohydrates (with 3 or more monomeric units), and lignin that are intrinsic and intact in plants," and isolated and synthetic fiber determined by FDA to have a beneficial physiological effect. At the time of the proposal, FDA had determined that [beta]-glucan soluble fiber and barley beta fiber the only isolated fibers that qualified. The final rule includes additional fibers, i.e., psyllium husk, cellulose, guar gum, pectin, locust bean gum, and hydroxypropylmethylcellulose. FDA intends to publish a separate notice to seek comment on the available scientific data on other isolated or synthetic non-digestible carbohydrates (e.g., inulin, bamboo fiber, soy fiber, pea fiber) to assist the agency in the review of the scientific evidence. FDA also plans to issue guidance regarding the requirement to show a beneficial physiological effect of isolated and synthetic fibers that are not already included in the regulation or considered in the notice.
Folate/Folic Acid: FDA had proposed to no longer consider folate and folic acid synonyms, and require the vitamin to be identified as folate for foods and as folic acid for dietary supplements. In response to comments, FDA reconsidered this approach. Now, for both foods and dietary supplements, the vitamin will be identified as "folate." The rule further details how to label/identify the presence of synthetic folic acid (e.g., for dietary supplements); if the source of the folate is a synthetic source, such information must be declared in parentheses (e.g., folate 400 mcg DFE (240 mcg folic acid)).
Vitamins and Minerals: For nutrition labeling of conventional foods, the mandatory vitamins and minerals will be vitamin D, iron, calcium, and potassium. The amount and percent DV for these nutrients must be declared. For other minerals and vitamins, the declaration of the amount is generally is voluntary.
Record Keeping Requirements
Whereas previously, FDA could verify nutrition labeling by analysis of the food, verification of compliance with the revised regulation cannot be done without review of records. Businesses are required to make and keep records for verification of the mandatory declaration of added sugars, dietary fiber, vitamin E, folic acid, and folate. The rule does not specify what records must be kept.
The above is only a sample of the many aspects of the final rule. The preamble to the Nutrition Labeling regulation addresses numerous other issues such as the reference values for choline, the voluntary declaration of fluoride, changes in reference values, and changes in nutrition labeling for foods for children (certain nutrients that previously could not be listed, now must be listed). The final rule will impact virtually every conventional food product.
As acknowledged by FDA, the revisions to the labeling regulations impact other regulations, including nutrient content claim and food additive regulations (e.g., the food additive regulation for vitamin D bases the use of vitamin D on a product containing a certain percentage of the reference daily intake for calcium). FDA has signaled that it intends to address that impact in due course.
Serving Sizes of Foods
At 170 pages in the prepublication format, the final rule regarding serving sizes and reference amounts customarily consumed (RACC) is significantly shorter than the nutrition labeling rule. . As discussed in the proposed rule, the proposed changes were based on evaluation of new consumption data and research, petitions. FDA had proposed several changes, including revisions of RACCs (reduction for yogurt, increase in RACC for ice cream), new RACCs (different RACC for carbonated beverages than for milk), and a revised definition of single serving size container.
There are a number differences between the proposed and final rule. Possibly, the most significant difference is FDA's decision to lower the upper limit of dual column labeling from 400 percent to 300 percent of the RACC. FDA had proposed that products that contain at least 200 percent but no more than 400 percent of the RACC be labeled with "dual column" nutrition information to indicate the amount of calories and nutrients both "per serving" and "per package"/"per unit." In response to comments, the final rule requires such dual column labeling for products that contain at least 200 percent and but no more than 300 percent of the RACC. FDA concluded that "[p]roviding an upper limit at 300 percent of the RACC would ensure that dual-column labeling captures 90 percent of the consumption habits for about 91 percent of food products and limit the possibility that dual column labeling will be required for package sizes that are not likely to be consumed in a single eating occasion." The dual column must list the quantitative amounts and percent DVs for the entire container, in addition to listing the quantitative amounts and percent DVs for the serving size derived from the RACC. Examples of products affected are a 24-ounce bottle of soda (new RACC is 12 oz) or a pint of ice cream (new RACC is 2/3 cup).
Under the final rule, containing less than 200 percent of the RACC must be labeled as a single-serving container. For products that are packaged and sold individually that contain more than 150 percent but less than 200 percent of the applicable reference amount, the Nutrition Facts label may also voluntarily provide, to the left of the column that provides nutrition information per container (i.e., per serving), an additional column that lists the quantitative amounts and percent Daily Values per common household measure that most closely approximates the RACC.
In response to comments, various proposed RACCs were revised, e.g., FDA has proposed to increase the RACC for ice-cream from 1/2 cup to 1 cup but, after redefining the category to include both bulk products and novelties, set the RACC for this category at 2/3 cup.
Combined, the two final rules are extensive and are bound to affect virtually every conventional food product (and many dietary supplements) on the market. In both rules, FDA mentions that it will issue guidance to clarify a variety of issues, such as what to include in a petition regarding a synthetic fiber, and what is the RACC for a bagel thin. In addition, the Agency indicated there will be other updates in the future, e.g., RACCs for children food products.