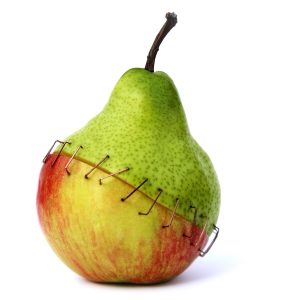 Service(s) related to this article: Global Certifications, Food & Beverages , Product Development & Label Compliance
Genetically Engineered (GE) Food is derived from organisms whose genetic material (DNA) has been altered in a way that does not occur naturally. Their purpose is to obtain a specific desired trait or characteristic using biotechnology to select individual genes of interest to be transferred from one organism to another – related or non-related. There are 8 commercially known GE crops from which GE foods are commonly produced – Canola, Corn, Soybean, Sugar Beet, Papaya, Squash, Cotton, Alfalfa. It is estimated that 60-70 percent of processed foods in grocery stores today include at least one GE ingredient.
Mandatory labelling of genetically modified foods is a debated concern globally. In Canada, the United States and many other countries, there are no officially authorized requirements for labeling of GM foods and it is done voluntarily. However, in the U.S and Canada, labelling of foods is obligatory when there is a significant difference in product composition, nutrition and allergic reaction from its conventional counterpart. On the other hand, labelling of GM foods is regulated and mandatory in the EU.
Although Labelling of foods with GE ingredients will enable consumers to know about any potential harmful health effect on human beings and give consumers informed choice to buy or avoid GM foods if there is a precautionary warning of unknown health risks, food manufacturers have often used non-GMO certification to assure consumers of the GMO content of their products. Making a certified non-GMO claim on foods benefit international trade, economic growth and consumers concerned about GMOs in food. Moreover, products with certified claims on their label continue to gain strong consumer demands. Additionally, food products branded Non-GMO and Natural are flourishing in conventional grocery shops even though, GM ingredients and their derivatives are frequently used in livestock feed and as inputs in the manufacture of Natural Health products and Dietary supplements. Undeniably, some of the claims found on some food labels can be misleading as unverified claims are often made on food labels.
How do you identify if the non-GMO claim is correct or even true?
Verification by third-party certification bodies using accomplished verifiable markers will ensure your consumers are not misled. Third party certification ensures regular inspection and assessment to standards, thereby providing the distinction and reliability many consumers seek. With global demand for wholesome products, non-GMO certification with dicentra guarantees impartial third party verification using standards that meet most of the generally accepted criteria for detection of GE and GMO ingredients in foods, natural health products and dietary supplements.
dicentra provides sought-after guidance on product and marketing compliance, quality assurance and safety standards, research and development, new ingredient assessments and overall regulatory strategies for food and health-related products sold in North American marketplaces. We can also assist you with your marketing material reviews from labels, brochures, advertisements to websites for Canada and the USA. We can be reached at 1-866-647-3279 or info@dicentra.com.