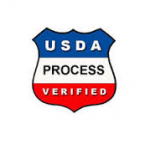 USDA's Process Verified Program verifies facility process of manufacture can ensure products do not contain GMO ingredients.
This ground-breaking distinction was achieved by SunOpta's food manufacturing facility in Hope, Minnesota. This facility is now the first of its kind in the United States to be approved by the United States Department of Agriculture (USDA) to declare that it produces Process Verified Program-verified non-GE/GMO food items (soybeans and corn specifically). The company is now permitted to include the USDA Processed-Verified shield and qualifying non-GE/GMO claims on all marketing material. SunOpta is even intending to develop a special logo to brand its products "Non-GMO/GE Process-Verified" that are manufactured in its facility.
Though they have now demonstrated that they can evaluate whether facilities are able to produce non-GMO/GE items, the USDA has not set out an official non-GMO standard. The above example was an unique pioneering case where the USDA has verified that SunOpta's manufacturing facility processes ensures that the ingredients it produces are non-GMO/GE to its standards (which it has not revealed). Reportedly, it is expected that the USDA will announce a program to officially include a Non-GMO/GE aspect to its Process Verified Program soon. Other companies have already expressed an interest to the USDA to have their facilities verified through the Process Verified Program for non-GMO/non-GE claims.
The USDA administers the Process Verified Program through its Agricultural Marketing Service (AMS). The AMS also administers the USDA National Organic Program (NOP) that grants organic certification. Currently though, it appears that the programs will be coordinated separately despite the fact being certified to be organic necessitates the product to be non-GMO/GE, much to the ire of the industry.
As the US regulatory bodies are just now entering the domain of permitting non-GMO & non-GE claims, it can be very easy and unfortunately punishing to make claims that are not in compliance to the US regulations. Dicentra is constantly abreast of any regulatory developments and will provide updates as we receive them. Functionally, Dicentra can conduct label reviews for foods and dietary supplements including to ensure your products are in compliance.
dicentra provides sought-after guidance on product and marketing compliance, quality assurance and safety standards, research and development, new ingredient assessments and overall regulatory strategies for food and health-related products sold in North American marketplaces. We specialize in the areas of foods, dietary supplements, cosmetics, medical devices. We can be reached at 1-866-647-3279 or info@dicentra.com.