On February 11, 2019, FDA Commissioner Dr. Scott Gottlieb announced that the regulatory framework for dietary supplements is expected to change. It has been determined that changes are necessary due to the growth of the dietary supplement market – once considered to be "a $4 billion industry comprised of about 4,000 unique products, is now an industry worth more than $40 billion, with more than 50,000 – and possibly as many as 80,000 or even more – different products available to consumers" as reported by Dr. Gottlieb in his announcement.
The US has not seen any major changes to the regulatory framework that governs the sale of dietary supplements since the implementation of the Dietary Supplement Health and Education Act of 1994 (DSHEA). The recent announcement has suggested changes to this framework may occur in the following areas:
• Implementation of a rapid-response tool to advise consumers of products and ingredients they should avoid
• Promoting the use of the New Dietary Ingredient Notification pathway without hindering innovation
• Enhanced evaluation of herbal ingredients and new technologies through the development of a Botanical Safety Consortium, a panel which combines scientific expertise from government, academia, and industry
• A possible implementation of a mandatory product registry
Initial steps towards this change were taken as the FDA issued 12 warning letters and 5 online advisories to companies which were illegally marketing products claiming to treat, prevent or cure Alzheimer's disease. Marketing statements of this nature render the products to be unapproved drugs regardless of the ingredients the products contain.
With these upcoming changes in enforcement do you find yourself thinking "Are my products in full compliance? What will happen if they aren't?" In light of these concerns, we have compiled a list of four key areas to review while working towards full compliance for your dietary supplements.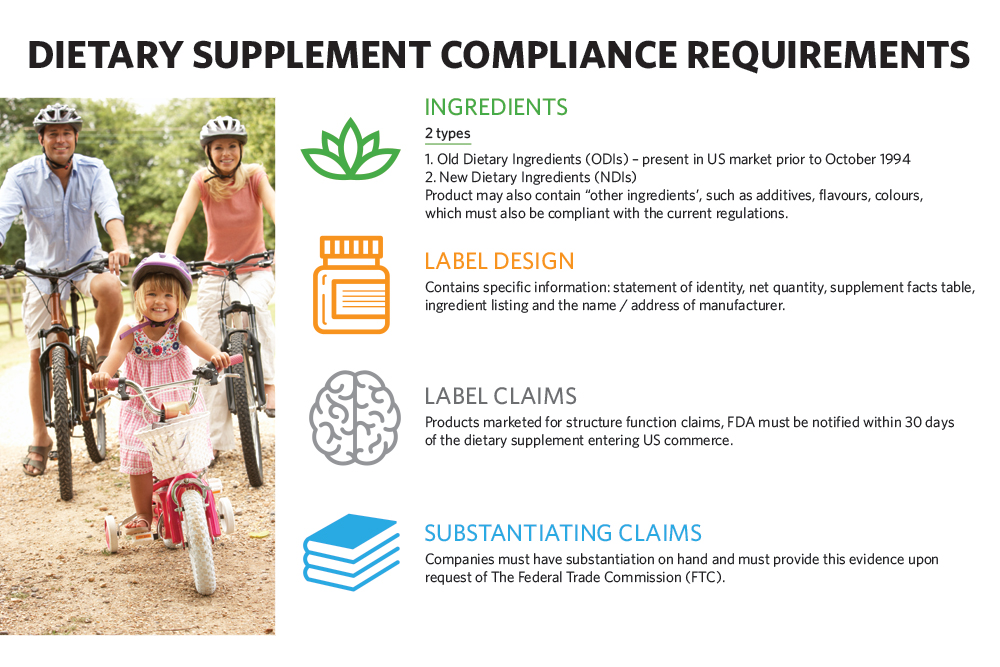 1. Ingredients
You cannot market a compliant dietary supplement unless you ensure your ingredients are fully compliant. There are 2 types of compliant dietary ingredients:
• Old Dietary Ingredients (ODIs) – these are ingredients which were present in the US market before October 15, 1994, the date DSHEA came into force. Companies are required to have evidence on hand to demonstrate that their ingredients are in fact ODI if ever challenged.
• New Dietary Ingredients (NDIs) – any ingredient which was not present in US commerce prior to October 15, 1994, is considered an NDI. Depending on the ingredients you are using and preparation of those ingredients, submission & approval of an NDI notification may be required to achieve compliance.
Your product may also contain "other ingredients', such as additives, flavours, colours, which must also be compliant with the current regulations.
2. Your Market Label – The Basics
Having a compliant label is of great importance. This is your front line defense to demonstrate your product is in full compliance. The FDA requires that a dietary supplement label contain specific information, including a statement of identity, net quantity, a supplement facts table, an ingredient listing and the name & address of the manufacturer.
While that list is not long, there are specific requirements for each which must be met in order to achieve full compliance for your label. As a regulatory professional, I completely understand how invigorating it can be to comb through 21 CFR 101.36 to identify each and every part that needs to be included in your supplement facts table, but all in all it may be a better use of resources to outsource development of your supplement facts table and have a US regulatory specialist review your market label for compliance.
3. Appeasing Your Marketing Team with Additional Label Claims
The FDA has specific requirements for marketing statements related to health. Dietary supplements are not permitted to make health claims without authorization by the FDA. Structure-function claims, however, can be included on dietary supplements without approval of the FDA, but products choosing to market in this manner must include a disclaimer notifying the consumer that the claims have not been evaluated by the FDA. It is important to note that while your marketing department may be pushing for strong claims, regulatory due diligence is necessary as some seemingly benign statements could be considered non-compliant or litigious in nature.
If you choose to market your product for structure-function claims the FDA must be notified of the claims you choose within 30 days of the dietary supplement entering US commerce.
4. Substantiating Your Label Claims
After endless meetings with marketing, you have finally decided on the direction to take for your structure-function claims, but can they be substantiated? The Federal Trade Commission (FTC) is the organization responsible for ensuring marketing claims are substantiated with "competent and reliable scientific evidence" and that they are truthful & not misleading. Companies are required to have substantiation on hand and must provide this evidence upon request.
It is important to know where you stand when it comes to claiming substantiation. Marketing for a claim that is determined to be unsubstantiated can open you up to enforcement actions or litigation. In light of these risks, it is advisable to seek professional guidance on whether the evidence on hand is sufficient to support your desired structure-function claims.
dicentra offers a full range of services to assist with the marketing of compliant dietary supplements. Whether you are seeking guidance on which ingredients to choose or to confirm the marketing on your website is in compliance, the team at dicentra has the expertise and resources to assist you.
dicentra provides sought-after guidance on product and marketing compliance, quality assurance & safety standards, research & development, new ingredient assessments and overall regulatory strategies for food and health-related products sold in North American marketplaces.
Questions about ? Contact Us!
1-866-647-3279 | info@dicentra.com
dicentra provides sought-after guidance on product and marketing compliance, quality assurance and safety standards, research and development, new ingredient assessments and overall regulatory strategies for food and health-related products sold in North American marketplaces. We can also assist you with your classification determinations for delivery systems or combination drug-device products.